Strengthening field coordination between the NEC's headquarters and field office to improve communication and flows of information.
Legal support to the screening of candidate nomination forms.
A third phase of the civic and voter education campaign targeting voters and increasing awareness of voting conducted.
Manuals development for the replacement of voter registration cards and for poll workers to ensure consistency in the application of procedures on election day including voting and counting at polling places.
The new electronic administration will be introduced across the NEC and its workforce will migrate from the existing system.
An asset management specialist will be deployed to prepare a strategy to integrate asset management into the new administrative system.
An IT/Data Center expert will be deployed to assist the NEC data centre manage the final phases of the voter register and set up an election results management system.
Training for election security will also be conducted in partnership with the Liberian National Police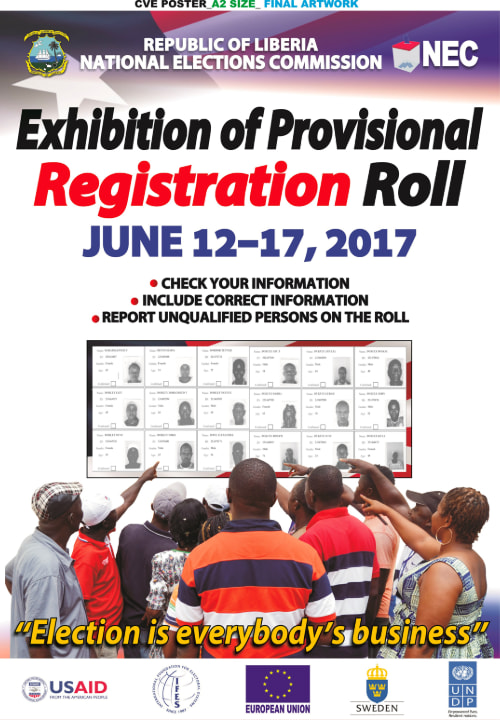 In 2017 the details of 2.14 million people are included on the voter register of which 49% are women and 51% men.
A UNDP facilitated meeting supported the drafting of the Ganta Resolution that is signed by all political parties strengthening their commitment to peaceful elections. This resolution provided the foundations for the Farmington River Declaration agreed at the ECOWAS summit in June 2017.
For the first time in Liberia's electoral history 30,000 tactile ballots will be introduced at polling station level to ensure visually impaired voters can vote in secrecy enjoying the same rights as other community members.
A national civic and voter education campaign targeting the voting population is employing traditional communication platforms such as palaver huts and engaging community leaders to raise community awareness and increase voter participation.